Dear Wellness Seekers,
Summer Read Recommendation 'The Sound Of Glass' is just the ticket for anyone who wants to really downshift and escape during the upcoming Memorial Day weekend. But before I share raves about Karen White's book, let's take a step back for reflection. How did it get to be Memorial Weekend already? Perhaps you find yourself asking the same question as I am right now. Where did the first five months of 2016 go?  Looking back, what are the memorable moments to remember?  What's your mindset and mood right now as we launch into the first of summer's salutes to our country and our military veterans.
Do you feel a sense of something in the air –  an undercurrent of uncertainty?   It maybe a wave of change which seems to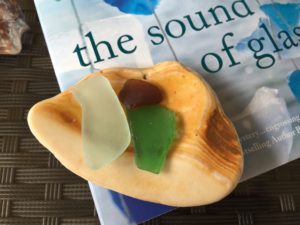 surface during Presidential election years. As if daily life is not complex enough, the overlay of political differences that are magnified in the media to the point of extremism begins to wave heavily on one's heart. This wonderful country is always changing but it always stayed true to the beliefs established by our founding Fathers. Now I wonder, are we straying away from what makes America great? I was especially reminded of this when visiting Philadelphia recently where I enjoyed touring the historic sites and refreshing my memory on some of  the defining moments in our history.
Our right to live FREE is so precious – free to enjoy our life in the ways we choose is something we can take for granted.
FREEDOM came with the composition by Thomas Jefferson and ratification of the Declaration of Independence by 89 delegates who found their way to unify around this common cause.  To rise above the differences. But our leaders appear to have lost the way forward. In challenging times the historic leaders who broke through to bring clarity and direction to a difficult situation rose above the foray of opposing positions to reach for the higher good for ALL.  Now we are divided with no one to inspire us to bond together as we face good versus evil in protecting our inalienable rights. To be more as one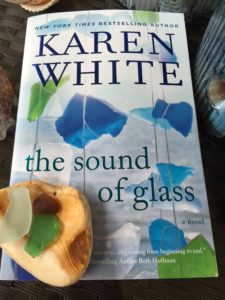 community versus insignificant as each stands alone. Our Military citizens fight with generous hearts to protect us – do we get it?
Summer Read Recommendation 'The Sound Of Glass' is a small yet significant symbol of our Freedom and the American way. 
As this Memorial Weekend arrives, for the first time in a long time I find myself feeling the deep need to disconnect from the world. To Spanista there is nothing more relaxing and definitive to expressing FREEDOM than immersing oneself into a summer novel like
'The Sound of Glass' by Karen White
.  We are FREE to write any story we want and FREE to read any story we want, anywhere, anytime any how. While I am a real fan of stories rooted in historical reality, a well crafted fiction story can draw you into mind bending worlds by what ever means works for you like Audible the traditional paper version at
Barnes and Noble.
 Check out these
reviews.
This weekend, find a simple way to express your FREEDOM The American Way to find your moment of joy. It is what my soul needs right now. How about you?
To Your Self Care Journey To Joy,
Ginny