Dear Wellness Seekers,
Southern Style Porch Party Inspiration captures my heart by way of a feature article in the recent Southern Living Magazine. It offers seven easy steps to making a part of your home into one of the most charming places you can experience – your porch. In America, The Porch is a nostalgic symbol of comfort, family, stories and cultural history. The Porch has enjoyed a comeback everywhere but especially in the South where enjoying tea on The Veranda was a sign of sweet sophistication. We now recognize the rich value it offered so many families before us.  Thank goodness just in time to make this summer full of memorable moments for family and friends.
Now if you do not have a home with a porch, never fear.  A patio of any kind can be converted to create a 'Southern Porch'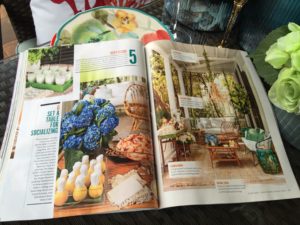 PINIMAGE feeling with a few enhancements. My fancy turns towards adopting a Spanista Style twist, here is my  formula:
Fantasy – Start with something that will help everyone transition from everyday life to another world. Pick a period of time and replicate the mood. For example, pick a classic movie theme like Somewhere In Time. Suggest you guests wear something reminiscent of the early 1900's era – maybe everyone wears summer white attire or a summer hat. Find the movie's theme music track which is very romantic to play it in the background along with other such period selections to set to tone.
Flowers – Drama can be treated by staging white flowers casual arrangements in key places. But if you can access lilacs that is one of the key flowers of the Islands. Vary the sizes of the arrangements depending upon where you wish to present them. perhaps a large one on the steps as guest walk onto The Porch – one the bar, another on the buffet table.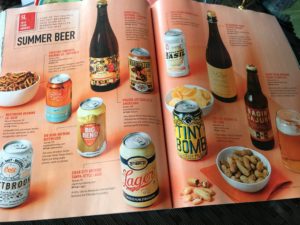 PINIMAGEFlavors –  Refreshments and Food should be kept simple but with in the era you choose. Alternatives to alcohol are welcomed in summer: Flavored Teas and Arnold Palmers – you always add vodka if your wish. Make sure you have choices that go beyond white and red like rose – so in vogue again like int was at that time.  Create a chilled lite menu – things like chilled cucumber soup, lite mini-salmon sandwiches; chilled shrimp.  Of course all this can be prepared in advance so you can enjoy hosting the soiree. This make it much easier to pace your preparations.
Fun – Keep things engaging and lite. After everyone has settled in stage a trivia contest with fun facts about all the movie's characters, the very famous music score, and the plots and the location of the shoot at the Grand Hotel on remote Mackinaw Island, Michigan. Clue: The hotel veranda is outstanding!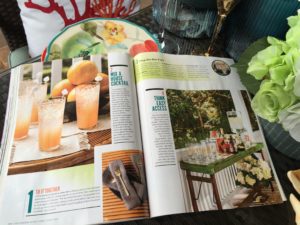 PINIMAGE
Southern Style Porch Party Inspiration can be viewed as a Southern Living article the June edition. It is 'Throw A Porch Party' by Patricia Shannon with photos by Laurey W Glenn. Spanish could not help but think about a version that helps you really escape.  You will find great 'Secrets to Outdoor Entertaining' by Tara Guerard too.  Why not indulge yourself in a little hosting experience to kick off the summer? It promise to be memorable for everyone.
To Your Self Care Journey To Joy,
Ginny