Dear Wellness Seekers,
Good News Monday: Shopping That Is About More Than Sales highlights the long over due call to transform the concept of  "store" and the role it plays in satisfying our modern shopping needs in search of inspiration on multiple levels. For those of us who believe in Spanista's point of view on the virtues of Smarter Retail Therapy, the physical shopping experience is part of the payoff we seek for Self-Care.
That is why I was excited to see in the New York Times Sunday Styles Section, a great article featuring Blake Mycoskie founder of Toms Shoes with the headline Shopping That Is About More Than Sales. I am sure you know the Toms brand because it is famous for the unique style of it shoes – modern, casual, comfortable and especially because with every pair you buy another pair is donated to a child in need in the developing world. He made the Buy One, Give One concept with a mission that has proven sustainable.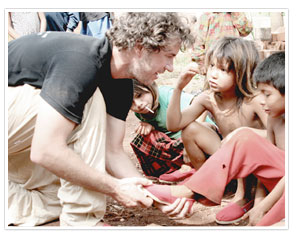 PINIMAGEToms appeals to me for many reasons. He broke the fashion mold, but ultimately I respect Blake Mycoskie for holding tight to the courage of his convictions. You can imagine the adversity he faced when he told potential business partners that he wanted to build a unique new business model around the concept of humanitarian design for the masses. And that people would love the idea of buying one and giving one away and expecting nothing in return.  That was in 2006. Today his dream manifests at The One for One Model.  Toms now makes a difference in the lives of his fans who have fallen in love with the brand while providing a bit of excitement and dignity to bare foot youngsters in far off places.
I follow Tom because we have a great deal in common.  Our focus on humanitarian design as a way to serve the families and community with lifestyle villages is genuine. It took vision and courage of BSB Design's Chairman, Doug Sharp and his team to tackle an issue no one was able to find a successful solution for – that of creating fast, sustainable low cost housing for the developing world. And to embrace the deep desire to see service to humanity through a kaleidoscope of opportunity and shared passions for challenging the status quo.
Now Blake is once again challenging the status quo of the retail "store". He resisted opening stores because he established powerful partner relationships to distribute his shoe and sunglass/eyewear collections that allowed him to bring his unique message and product to the world. Now to keep expanding his reach and keep the brand connection with customers vibrant he is interested in have direct contact. But the idea of a "store" stops him cold.
Blake's vision for Tom's direct to customer's in person experience is one of a 'community outpost'. An outpost seemed more of a meeting center, an area for information, almost a political rallying point. This is the place where things are happening." Blake prevailed and the company opened its first Toms Outpost three years ago in the Venice section of Los Angeles. I have been there and loved it. You will find a backyard patio with seating, free Wi-Fi and events like morning yoga classes and movie nights. There is also a cafe serving cups of Toms coffee, a recent brand expansion. And , oh yes, grounded in distinct places around the room, traditional toms products.
As Blake explains it is creating a lifestyle for the brand. He now has seven outposts with more plans to expand them. Thank goodness Blake is helping to drive a movement to redefine the fashion retailing experience. What is emerging is retail store as community center, a welcoming environment that offers experiences in addition to products.
The richness of experience is what we crave today – to have the opportunity to participate in brands lifestyle with like-minded people. One common thread that bonds us is contributing to a greater purpose – Abod is passionate about democratizing housing in the developing world – we want people to come with us on our mission trips to see how their donation matters – they can build an AbodShelters with us and feel the satisfaction of building a home for a family in one day.
Good News Monday: Shopping That Is About More Than Sales inspires Spanista in many ways – to continue to spread the word on how giving back can stimulate another level of Self- Care and Wellbeing; to realize the world is challenging the conventional retail shopping and something new and exciting is starting to emerge. It will be exciting to see what the Innovators will create that stimulate us who crave the enjoyment of shopping. Maybe they will even tap into the Self-Care Movement?  Thoughts?
To Your Self Care Journey To Joy,
Ginny