Dear Wellness Seekers,
Friday Wellness Tip: Glassbaby Charms Light The Way to personal enjoyment in the most stylish and caring way.  Today I opened an email from Glassbaby  to find the most inspiring 'Holiday Look Book'. Like you, my Spanista mailbox can overflow with promotions but Glassbaby is one of the messages I look forward to opening because it always lifts my heart. To me, Glassbaby is the perfect intersection of Art and Self-Care to create Light that leads us back to our humanity. It is the symbol of self-awareness, self-reflection and hope. I am so taken by Glassbaby's hand blown tea candle holders, I collect them to enjoy throughout the year. I find the ritual of lighting candles is reassuring during this difficult times of unrest around the world.
Glassbaby is founded on platform of purpose that to me Lights The World with Goodness. The creatively focused team is so thoughtful about how they name each candle, how they combine them into stories and design opportunities to for NGO's to do good works in the community in meaningful ways, it moves me to tears.
I was first introduced to this brand and imaginative privately held artisan business when I was on a business trip in Seattle visiting Nordstrom's corporate leaders. A lovely lady I had just met wanted to show me around the city. When we were driving through a quaint neighborhood she stopped suddenly at a small warehouse which looked like it has just been renovated.  This is of course is the trend in many enlightened cool cities that are fostering dedicated urban areas for Creative Culture to flourish.
Upon entering the Glassbaby warehouse one experiences the full glory of a high-end glass creators studio. The mood transformed from the feeling of a very chilly and rainy grey day outside to one of  warm energy infused with a rainbow of color. The focal point in the studio is the huge blaze of Light so intense you take in its power but are forced to look away but yet you are drawn back to see this Light.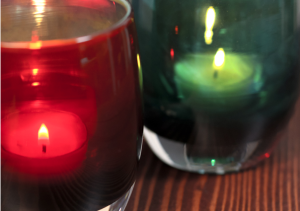 PINIMAGEIt is the Glass Blowers Furnace of Light. The Light that inspires creativity – with out the intense temperatures the glass cannot become molten so it can be blown with the spirit of life into the iconic shape that glass baby's claim to fame. Experiencing the rainbow of colors of candle holders spread along table upon table that gleamed in the dim moody light rendered me speechless. I was immediately smitten. Do take a moment to check out the latest Glassbaby Holiday Look Book. I believe you will enjoy it.
Friday Wellness Tip: Glassbaby Charms Light The Way is a reminder of the power of a simple gesture like the of lighting a candle in style can bring us to positive moments of Self Care. Why not take a moment to light a candle or two this weekend? And consider it a practice every weekend throughout the winter solstice. It will warm your soul with Faith in these challenging times.
To Your Self Care Journey To Joy,
Ginny