Dear Wellness Seekers,
Toast Perfect Wine Pairing: Manos Red Wine In Artistic Bottles is a unique take on the traditional wine lovers experience. It is the time of year when autumnal gatherings move into full swing. Spanista loves the casual nature of it all especially when it is triggered by sports.
It is easy to see why professional sports are so loved, they offer the perfect escape from the rigors of daily life. It is fun to hang out with fellow fans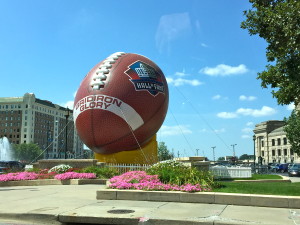 PINIMAGEwearing 'what ever' gets you in the mood for the battlefield.  I grew up in football town USA – Green Bay Wisconsin. My Father attended the famous ice Bowl and lived for Sunday when Vince Lombardi was in his prime, coaching this first Super Bowl winner. Now I call Kansas City home part of the time. As I write this I am watching the Kansas City Chiefs play the Green Bay Packers at Lambeau Field. Watching the game makes for an interesting few hours in our household!
Today I trade green and gold for royal blue to show support for my favorite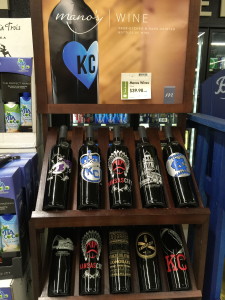 PINIMAGEbaseball team Kansas City Royals who won the American League Central Division. These great teams really add so much excitement to the season. And we are really looking forward to it as playoff parties begin soon.
Spanista loves to bring something unique to these gathering. We all love a great glass of California Red but what might make the opening and pouring even more special? What makes a great home sports party with out a great glass of wine from Manos Wine.
Toast Perfect Wine Pairing: Manos Red Wine In Artistic Bottles offers these artisanal bottles with custom etched labels by Manos Wine. I discovered them PINIMAGEat my favorite fresh market and they looked so special. It is thoughtful to express your passion for someplace special you share with friends. And it is easy to see how giving one could turn into a personal collection – toasting your favorite team and enjoying the beauty of the bottle as art is really fun.
Manos Wine is perfect for game day gatherings and  an other fall celebration. Hand crafted and beautifully designed adds value to your conversations.
Check out there website – you can order a design in their collection or they will customize one for you.  With the holidays coming this could make a wonderful gift specially in the attractive wood crate packing. Enjoy!
To Your Self Care Journey To Joy,
Ginny