Dear Wellness Seekers,
Poetry Jam at Jimmy John's Gourmet Eatery set Spanista's mind right. Who would have expected it? Here is the story about this pleasant surprise.
My husband and I set out for brunch at our favorite spot in North Kansas City. A delightful new First Watch opened where the omelettes are to die for. But the waiting line was beyond tolerable this Sunday – the city is hosting a few big events including the infamous Plaza Arts Festival which brings in the best artists from across the country attracting a first class crowd. It is one of our a gorgeous autumn days – the kind Kansas City boasts about this time of year. So everyone is out and about to enjoy the best of the day. After a just a few minutes of waiting my husband gave in to his hunger and said let's take a walk. Well this usually means one of two things: 1. We are simply taking a stroll to kill the time, or 2. We are on the hunt for an easier alternative!
Just after a few steps down the street we came upon a Jimmy John's Gourmet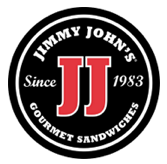 PINIMAGE Sandwich Eatery. Spanista's filters kick in – is this just another sub shop? Not exactly where I would expect to get that omelette I was craving but it looked bright and fresh when we walked in. Better yet my husband was first in line for which he smiled back at me broadly.  Unexpectedly, I found I could get my sandwich choice wrapped in lettuce – no bread! Great idea!
While he ordered for us I took a seat at a high top table by the window to enjoy the view – watching happy families pass by today is heart warming. Turning back, something on the wall caught my eye – so I walked up to it  – the type graphic said IF …a historic treasure of thoughtful prose worth the read!
Here is IF by Rudyard Kipling:
If
If you can keep your head when all about you
Are losing theirs and blaming it on you;
If you can trust yourself when all men doubt you,
But make allowance for their doubting too:
If you can wait and not be tired by waiting,
Or, being lied about, don't deal in lies,
Or being hated don't give way to hating,
And yet don't look too good, nor talk too wise;
If you can dream – and not make dreams your master;
If you can think – and not make thoughts your aim,
If you can meet with Triumph and Disaster
And treat those two impostors just the same:.
If you can bear to hear the truth you've spoken
Twisted by knaves to make a trap for fools,
Or watch the things you gave your life to, broken,
And stoop and build'em up with worn-out tools;
If you can make one heap of all your winnings
And risk it on one turn of pitch-and-toss,
And lose, and start again at your beginnings,
And never breathe a word about your loss:
If you can force your heart and nerve and sinew
To serve your turn long after they are gone,
And so hold on when there is nothing in you
Except the Will which says to them: "Hold on!"
If you can talk with crowds and keep your virtue,
Or walk with Kings – nor lose the common touch,
If neither foes nor loving friends can hurt you,
If all men count with you, but none too much:
If you can fill the unforgiving minute
With sixty seconds' worth of distance run,
Yours is the Earth and everything that's in it,
And – which is more – you'll be a Man, my son!
Source: Family Friend Poems
Spanista then looked around to notice several other wall graphics with great inspiring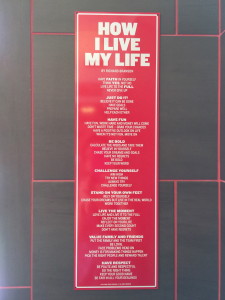 PINIMAGE quotes and prose – now this was not your average fast sandwich shop. Here are words of wisdom from Sir Richard Branson too.
We found ourselves not only enjoying our gourmet sandwiches 9 Love the lettuce wrapped tuna salad, we also find ourselves uplifted by the atmosphere too. Wise words empower, raise your spirits and help you be the best you can be as the day unfolds gets a thumbs up from Spanista! Give Jimmy John's a try and let us know what you like
To Your Self Care Journey To Joy,
Ginny