Dear Wellness Seekers,
Sage Restaurant Offers World Class Dining, Aria Hotel Las Vegas appeals to all the senses, Spanista is happy to report.
The Foodie Scene in Las Vegas is extraordinary. So many luscious choices created by the finest chefs and cuisine concept creators in the world want to include this high performance destination on their roster. All these fine experiences cover that full range of world favors, all within a few square miles. This is geography that fits into the size of midtown Manhattan alone! Along with 5 other AbodShelters Team members participating in the International Builder Show (IBS), I was invited by
Dan Swift, President and CEO of BSB Design
to celebrate our premier of the latest
AbodShelter
s at IBS.  The work effort was intense as we prepared for the appearance.
The architectural design firm invested a great deal of resources into this humanitarian design solution for needy populations around the word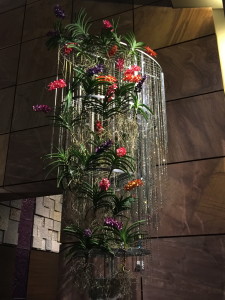 especially when the global recession was at its peak. They believe devoting their talents to helping address the needs of the homeless everywhere and anywhere is the right thing to do. Now the design has emerged even stronger with the help of our manufacturing partners, Jacques and Lee-Ann Hammer of Johannesburg, South Africa. They engineered new ways to make the Abod go up quickly and affordably in Africa.
This couple came all the way to Las Vegas to attend the show and experience the best housing development industry conference in the world attended by over 40,000 people. So treating them to a great dinner at one of the finest restaurants the Glam City has to offer was great fun to experience together.
Sage was an excellent choice. The
Aria Hotel where Sage
is nestled with its

tall entrance and open glass studded lobby is grander than life. Fresh flowers stories tall, airiness and night lights set the atmosphere. Once you enter Sage you melt into the mood of fine dining that is relaxed yet refined.  Encouraging socializing are the high tables seating immersing into the bar scene. That was our choice.
The menu offers two options for your dining experience.
A four course menu where portions downsize so you can take in the entire meal with joy.
Chef's Tasting Menu which offers wine pairings.
My choices were three courses: Salt Roasted Beets; Grilled Spanish Octopus; Maine Day Boat Scallop plus a spoon of yumminess to get the taste buds going. Of course class cuisine is not complete without a wonderful bottle of wine. A great compliment was a smooth Duckhorn Napa Valley Cabernet Sauvignon.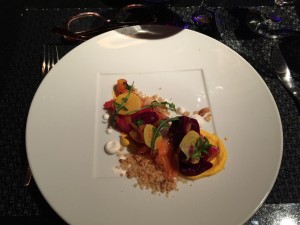 Sage Restaurant Offers World Class Dining, Aria Hotel Las Vegas delivers an incredible combination of flavors in each dish. Extraordinary! Explosive! It is what foodies dreams are made of! Spanista suggests checking it out the next time you plan to visit Las Vegas.  It was the perfect reward for the devoted preparation time by the team!  Thanks Dan! The AbodShelters Team had a great time.
To Your Self Care Journey To Joy,
Ginny