Dear Wellness Seekers,
Coastal Living Magazine Rates Stuart Florida #1 Seaside Town is very exciting to share with my fellow Wellness Seekers. You may know by now, Spanista is a lover and advocate of seaside living. It is a lifestyle unlike any other. No matter my travels around the world to some of the most vibrant and modern urban areas, I am always drawn to places that provide the spiritual richness and healing of surf, sand and salt air. I never feel more at peace than when I have spent a few days wave watching and walking the beach. Discovering a beaches natural gifts of beauty takes supreme focus. For example you simply cannot be a surfer or a devoted shell hunter and ponder the issues of the word at the same time. These efforts call for opposing brain functions via our neurons. If you do one, it will cancel out the other because of how we are wired. All I can say is thank goodness tide waves have the inexplicable power to pull us into trance and claiming ours souls for a while thanks to the positive ions in the air.
I am full of gratitude to have selected the greater Stuart area as home since the summer 2015. We choose it for many reasons but is particularly surprising to discover Coastal Living Magazine, one of my favorite lifestyle magazines picked Stuart, Florida Number 1 Seaside Town 2016. ( It was also fun to see Sturgeon Bay, Wisconsin at the base of Green Bay feeding into Lake Michigan made the list as it was one of my favorite destinations having grown up in the Green Bay area. We shall save this story for another time.)
One word describes Stuart – CHARMING! Here are some of my favorite things about the Stuart area:
Ample locations to enjoy Spanista Reflection Walks to nurture your soul. You can see sunlight hit the dolphin water fountain at just the right time in the morning I was at Indian River Park on the Indian River Lagoon.
We have a new oceanfront hotel under development on Hutchison Island at the end of Jensen Beach Blvd. It is due to open in 2017, called Oceanside Resort with a spa and two pools with 184 rooms. This will be a great place to have guests stay especially if they want to see sea turtles in their natural habitat. It is quite the experience.
Amazing seafood and farm to table freshness abounds with many independently owned restaurants which far outnumber the national chains. A favorite is the old world Dolphin Bar & Shrimp House owned by a famous historic Hollywood actress from the WW II to 1960's – Frances Langford. The romance of memorabilia is everywhere.
Shopping and relaxing along the waterfront in historic downtown Stuart has a charm all its own. And sport fishing is the BEST here if you want an outdoor adventure on the water. Boating all kinds is a great American pastime here.
Flowers, flowers and more flowers bloom all year round add dramatic colors against the colors of the sea – a feast for the eyes free for your enjoyment around ever corner.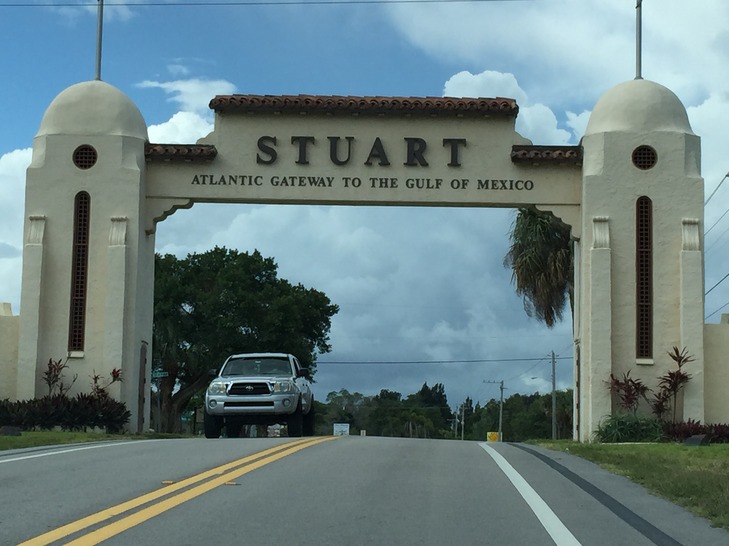 Coastal Living Magazine Rates Stuart Florida #1 Seaside Town is well earned recognition. If you happen to enchanted enough to give us a visit please let me know. This  is a very relaxed place where people enjoy life in an Florida Seacoast kind of way. And if you need a dose of glamorous Florida Palm Beach is within an hours drives. The best of all worlds lies in coastal living.
To Your Self Care Journey to Joy,
Ginny