Dear Wellness Seekers,
Living Well With Your Own In-Home Spa Experience is something everyone deserves to enjoy. This is a very personal way to care for your mind, body and soul.  The pleasure of this experience is one that keeps on giving.  It is there when ever you need it, does not require any travel and provides the ultimate level of privacy. The positive effect lingers no matter what level you wish to indulge in.  This weekend I spent some time outdoors in the heat so while I felt invigorated in spirit my body was drained. So late in afternoon I took to my personal spa bath. Because I am a devoted Spanista, I have all the essential ingredients at hand to pull together a relaxing retreat in my lovely home spa.
In holistic living all things are interconnected so have you considered your home design's effect on your body and your wellbeing? After all –  It's your body – love it and give it what is needs to be the best it can be.
Let's start with taking a closer look at your bathroom. Take a step back to gain a fresh perspective on this space. Ask your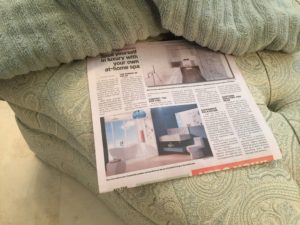 PINIMAGE how can you renovate it to build the bath space of your dreams. The degree of renovation depends on your appetite for change and how many ways you want to make the your customized experience come to life. It can range form a full-scale rebuild of your bathroom to adding accessories or simply bringing a new and healthier spa products to your care routines.
Here are some suggestions I picked up from a great article published in my Treasure Coast Newspaper by Brandport Content – Spoil YourSelf In Luxury With Your Own At-Home Spa:
The Power of Color – Select colors that soothe while evoking the feeling of tranquility.
Comfort You Can Feel – Soft textures of towels and rugs offset the cold surfaces that are part of the modern bath. Or if you are redoing everything condor heating flooring. It changes everything.
Experience Relaxation – Innovative shower heads are a great way to transform how water flow comforts the body. Kohler Bath has some wonderful options to explore. Or it can be something as simple as setting the mood by adding a collection of high-end candles like collection called SIMPLUX True Flame technology. It eliminates in the fuss and danger and really exudes the perfect ambiance. You can change the light tone with and remote. So cool.
Soothing Qualities to Hear – Music is an essential element but often forgotten. It can come by way of your iPhone or in a redo actually installing speakers for a surround sound experience.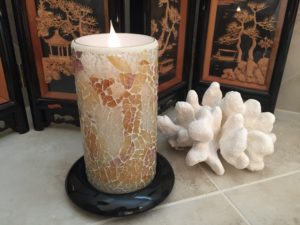 PINIMAGEMy new home has a comfortable bath area I love. Now that I have been living with it for a while I am shaping my vision for how I want it to feel and look to personalize it more to Spanista Style. Frankly, I do not feel the need to rush. Part of the fun is to enjoy this journey as inspiration unfolds. Pinterest is a great place to starting dreaming. Spanista welcomes hearing how your Home spa plans affect your life for the better. Enjoy!
To Your Self Care Journey To Joy,
Ginny