Dear Wellness Seekers,
Hotel Vitale Features Intimate Urbane Spa In The Sky Experience is a very unexpected and welcomed Spanista Travel Diary moment I will always remember.
After several days of non stop activity in California Wine Country and now The City of San Francisco I felt the calling for respite away from it all. I had hoped to have a Spa retreat with my friend Launa amidst the vineyards with a glass of pink champagne in hand but we just did not have proper time to devote to it. As you get to know the Spanista Philosophy you will recognize the importance of devoting proper time to optimize the benefits of your Spa experience,especially massage, is of paramount importance. With mindful attention to the pre, during and post treatment time you enhance the emotional and physical outcomes exponentially. So I determined I would seek a wellness experience while in San Francisco.
By day two in the city I could feel my body crying out for a break from it all. I had done some research before the trip and found a few day spa's online however sadly, as you may have experienced, like I have, the websites and reviews can only tell you so much and many times they may not tell the full story – both good and bad. As you can see from my Spanista Anatomy of a Spa Experience (see menu Tab) I have developed and rigorous criteria for 360 degree quality. So my expectations are high.
I often turn to hotel Concierge as they are great resources for Spa's that are around your hotel. I shared what I was looking for the lady at Pier 2620 and settled in on 3 possibilities – One was a California Spa Club chain, another an independent Asian inspired massage expert and last a boutique Spa in a hipster hotel at the edge of the financial district that focused on service to business travelers.
Hmmm….What do you think I choose as an adventuresome Spanista?
Hotel Vitale was unfamiliar to me so I checked the location and appears to be great. So I booked an appointment for the afternoon thinking it would not be busy so I could really relax. Happily the plan worked.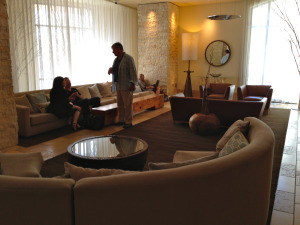 PINIMAGESo before the appointment I walked along the waterway to my destination and found it was across the street from the Ferry Building Marketplace. I came up to a very interesting contemporary sculpture at the corner of the hotel entrance. Any Hotel that loves art enough to invest in it to share with the world speak well of its intentions – I was already feeling a good connection. Getting through the lobby and onto the elevator to the Penthouse floor had an effect on my state of mind – I could begin to feel leaving the busy city behind and elevating above the madness of it all. I arrived at the Spa Vitale's door. Fabulous! I could see the outdoor patio and it was calling me. I was greeted warmly and asked to change into a very cozy robe. Gladly. I was served tea and I lay back on the chaise lounge overlooking the waterfront eight stories above it all.
Spa Vitale message is "to relax in our penthouse hideaway overlooking famous San Francisco Bay and to seek balance in luxury, naturally and enjoy our signature style of revitalizing your body, energizing your mind and nurturing your soul. Incorporating  the use of organic oils, remineralizing salts, pure essential oils, and wild-crafted herbal blends, our services are designed to delight your senses and inspire lasting wellness." Oh my. This does sound perfect – An intimate urbane Spa in the Sky Experience. I felt blest to be here. And planned to use the time a blocked out wisely.
Spanista was impressed with the location as it delivers on every promise. You can indeed look out over the Bay in an outdoor setting surrounded by luscious bamboo. You can see it felt like a hideaway. Spansita expectations were to be able to have preparation time before my Vitale Wellness Massage and I had the outdoor lounge to myself on the delightful autumn day. My message was skillfully delivered by a talented Therapist who thoughtfully tended to my care while I looked through the big picture window looking over the Bay Bridge while listening to a waterfall while Tibetan bells range rhythmically. PINIMAGEThen the creme de la creme was the Spa Vitale Signature Bathing Ritual on the private outdoor spa patios surrounded by gently swaying bamboo that reached to the sky. You can see the attention to detail – rose petals laced the perimeter. Cool water and hot tea within my reach with fresh fruit and cool rosemary scented face clothes for my comfort. Well this is what I call quality post massage reflection time!
Spanista Rating Takeaway: Spa Vitale – Joie de Vivre! This was a top-notch, a one of a kind experience. What made it so was adding the Signature Bathing Experience on top of the Signature Massage. I felt amazing after the experience. It was extraordinary to be able to enjoy the outdoor aspects from a high up perspective as they added a heavenly spirit. The gentle breeze blew your cares away. While the bamboo setting made you feel exotic and organic. And both the therapist and the personal attendant who created my bath were caring and provided the extra attention to details.( Like the slippers.)  I hope the pictures capture the things that made this unique and a cut above the typical. With out stealing the surprise if you wish to visit. tell them Spanista sent you. Ot was shear bliss.
To Your Self Care Journey To Joy,
Ginny
P.S. The Hotel Vitale Concierge deserved a great tip. Thank you dear lady!