Dear Wellness Seekers,
Hump Day? Try Spanista Self Care Comfort, Joy & Baubles. The holidays season is in full swing so today's message is a reminder to pause and take stock in your holiday experience . How are you feeling?  Take time for refuge and rest in the LOVE OF SPIRIT, KNOWING ALL IS WELL.
A loving hug from a friend, a crackling fire, a soft blanket, soothing candlelight, a hot bath, beautiful music … all of these bring me comfort. Spanista knows how to create a nurturing environment for my body, mind, and soul. I take good care of myself with gentleness and love.
In my ongoing quest to find inspiration for Self Care Rituals, I discovered a wonderful boutique called 'Lil Pink Bubbles'. For a Spanista it is a little piece of heaven on earth. It  brings to life The Fabulous 50's Boudoir from a glamorous woman's perspective. This pic shows one example of the playful atmosphere with fantastic photos of movie stars of the time like Marilyn Monroe.
When I stopped to reflect on her beautiful black and white photos I could not help but think about her story through the eyes of Spanista. A Marilyn Monroe quote reveals the connection : "I restore myself when I'm alone."
Imagine  – she had a life filled with so much publicity and so few private moments must have been taxing to the system – especially emotionally. The quote reveals that during the times she spent alone she would recharge her batteries and get ready for the next day or the next movie. We all need a little "me time" and perhaps she never had enough of it. Being a celebrity has its disadvantages, and one of them is that you don't' know when a camera is on you. You always have to be "on" and that can be draining. We can take a page from her notebook and use alone time to recharge and refresh.
At Lil Pink Bubbles Boutique, I discovered just the thing to make my day!  Noted artist and fabric designer Jennifer Hoar-McBride announced the release of "Soap Baubles® Jewelry For Your Bath®," her striking new line of uniquely designed jeweled soap and bath products in spring of 2012.
As stated in her press release – 'Ms. McBride's inspiration for Soap Baubles draws from the artist/designer's 20 years of experience conceiving and executing textiles and couture beading and embroideries for many renowned design industry icons, among them: Oscar de la Renta, Giorgio Armani, Carolina Herrera and Valentino. "These hand-crafted soaps are really works of art that will make any bath look glamorous," Ms. McBride says of her new product. Soap Baubles come gift-boxed and exquisitely wrapped, making them perfect for hostess gifts, special occasions, or simply to accent one's own bath decor.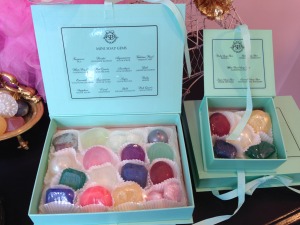 PINIMAGEThe products can be used effectively in many ways, Ms. McBride explains. "Hang a Soap Bauble soap necklace in your shower and let the fragrances wash over you, she says. "They can transform your bath experience, making it luxurious and tranquil." She adds that the soaps create a creamy lather that gently cleanses skin, leaving it feeling silky and refreshed.
Ms. McBride designs and creates Soap Baubles soaps and bath products in her studio on her 45-acre farm, the Brook Farms National Historic Trust Sites Mansion, in Vermont which was built in 1894. Many of Jennifer McBride's Soap Baubles scents are inspired by the formal gardens and vineyard on her Brook Farms estate .'
Spanista Takeaway: I know that just as important as what I do for Spanista Self Care Comfort, Joy & Baubles is the consciousness with which I do it. If I am conscious of the eternal love of Spirit, I am more deeply soothed by each activity of well-being. My awareness of Spirit is the most fulfilling and lasting comfort of all. However I choose to soothe myself in body, mind, and soul, I do so knowing that I am eternally loved. And in the everlasting love of Spirit, all is truly well.
When you think you do not have time – think of Marilyn!
May Your Self Care Journey To Joy Be Merry & Bright,
Ginny