Dear Wellness Seekers,
Good News Monday: Water's Emotional Wellbeing Quotient is something little recognized or understood. Spanista is always called to geography where water dominates the landscape. That may seem unusual for someone raised in the midwest, but even though I grew up in the lush, green heartland I was fortunate enough to grow up on the Great Lakes – specially Lake Michigan and even more specifically the long thumb like peninsula in north eastern Wisconsin call Green Bay.  We had a small lake house until my Father became very ill with a long term killer disease that lead to us selling it. I know it broke my Father's heart to let it go as he enjoyed time there so much.
We all felt being at the lake offered profound effect of wellbeing – relaxed, simple, playful and full of discovery. Wildlife everywhere – including black bears. My joys were fishing for blue gills with Dad, watching the sun set, water skiing, or simply dipping off the dock in to get cool on a hot summers day. Looking back I feel so fortunate to have enjoyed the ever changing seasons along the banks of rugged, deep, cool waters of Lake Michigan. You feel more human, more loving, more in-touch with yourself at The Lake.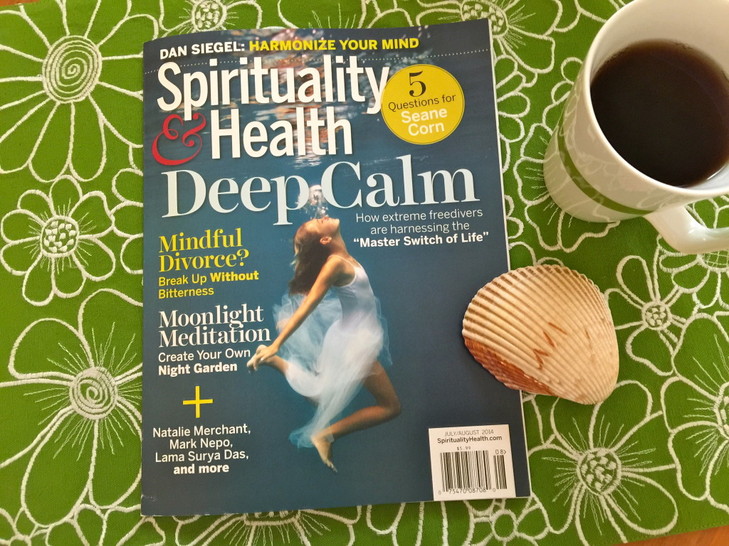 PINIMAGE
This positive seeding in my soul, is why large bodies of water have always beaconed me so once I got a taste of the Atlantic Ocean when visiting my brother in Boston. I knew at the age of 10 I would trade fresh water for salt water. Find a way to the coastal waters. And since then, have enjoyed oceans around the world with great curiosity, seeking revitalization from its unique powers.
When I came home I picked up a stack of magazines looking for something to extend my positive mood from an enjoyable walk along Bayshore. I came upon an article titled, "Your Brain on Water", by Jude Isabella in a magazine called Spirituality & Health. (Note this is  July/August 2014 Issue.)It features a book by Wallace J. Nichols called "Blue Mind". Mr. Nichols is an author and evolutionary biologist. He offers a fascinating study of emotional , behavioral, psychological and physical connections that keep humans so enchanted with water. It is billed as the surprising science that shows how being near, in, on or under water can make you happier, healthier, more connected and better at what you do. I am keen to read this given my curiosity about understanding the effects of water. To learn more about Wallace J. Nichols efforts click the link.
Good News Monday: Water's Emotional Wellbeing Quotient is a first step in sharing how we can benefit form bringing water's joys into our lives. Many people seem to feel the positive effects – the sounds, the smells, the textures, the rythmic waves that reach into our bodies and restore our souls that is why we seek the beach or the lake when ever we can. Spanista believes WATER is a natural resource of emotional wellbeing. It is up to us to learn how to make it work in our favour. Hopefully Mr. Nichols can help us in the quest. Have you read the book – if yes, please share.
What is your first water memory? Please do share…
To Your Self Care Journey To Joy,
Ginny