Dear Wellness Seekers,
Good News Monday: Spa Lovers Trend Delivers Air Travel Options is inspired by an article in the weekend edition of Wall Street Journal Off Duty section titled 'Air Slickness' in the Adventure & Travel Section.
Lauren Lipton waxes eloquently about the emerging options for travelers to indulge at airports like dipping into a nail salon. She states in Air Slickness, "From manicures and pedicures to waxes and haircuts, opportunities for preening before a flight are really taking off at airports."
Amen to that I say! Have you tried one of these services? If so, do tell!
Frankly, as a Spa Enthusiast, Adventure Seeker and Frequent Flyer sometimes finding myself flying to the other side of the planet, I spend a fair amount of time in airports – especially international terminals. In the past few years the international concourses in far off countries have come of age offering so many first rates shops, restaurants and services and unique experiences. Far beyond what we see here in the US airports.
These days if I need to spend time in one of these happy and stimulating environments I take advantage of it versus sitting in the airline lounge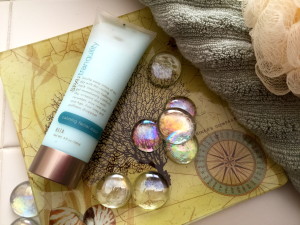 PINIMAGEbecause it is an opportunity to explore and relax in convenient luxury – one never knows what one will find that is irresistible. Mostly I look for the Spa Services – if I have enough time I will do something to unwind before I board a very long flight or while in connecting airports like Dubai. And sometimes I will purposely arrive early for a timely opportunity to escape! But when I really feel the need is arriving after a 15 flight. I feel crumpled – like I was just packed in a suitcase for days, yet knowing a business meeting awaits me. In true Spanista form, I would love to feel my best when I walk in the room of executives. Having access to any of these services upon arrival is a life saver.
To me, the best of services are found in the International Terminals right now. Sydney Australia is one of my favorites. These services are expanding to domestic terminals too but with the luxury toned down. They are for quick delivery so flyers can be on their way to or from destinations.
Good News Monday: Spa Lovers Trend Delivers Air Travel Options is well over do for all us road warriors. Just wish it would have come a few years ago – if would have saved some travel stress for certain on many a global trip.My go to service is the blow dry bar. Nothing makes me feels fresher than a shampoo and pro blow out. New York and LA by far are the best I have experienced in the US. It is a high art in my eyes. Next time I find myself in La Guardia Airport's Terminal C, I plan on stopping into WT GO, Manhattan's Warren Tricomi's micro service before I head into the City. Lauren says you can find them in airports like O'Hare and Boston, Toronto and Dulles too.
You can find a current useful guide of Spa Lounges and Airport Spas on Spafinder.com.
And, if anyone is reading this in the airline industry – Spansita suggests the next place to create a spa experience is on international flights – it would be heavenly.
Thoughts?
To Your Self Care Journey To Joy,
Ginny