Dear Wellness Seekers,
Good News Monday: Jennifer Meyer Apparel Collection From Barneys is an inspiration for your wardrobe for those who love the coastal casual feeling of Myer's Jewelry.
Spanista discovered Barneys, New York will be releasing Meyer's FIRST exclusive ready to wear collection in November so that means any day now, because you know it must launch right before the holiday season! This is the bran child of Barney's Chief Operating Officer Daniella Vitale and fine jewelry designer Jennifer Meyer who sparked a plan to celebrate the 10th Anniversary of her successful business with this unique collaboration.
Spanista loves the fresh attitude of Jennifer's Jewelry – its pure feminine, personal, iconic expression where metals meet sparkles. She states she creates luxury jewelry for boldly creative women as investment pieces. Since her brand debuted in 2005 her star continues to rise based on a winning combination of her talent, point of view and career pedigree working at Ralph Lauren and Giorgio Armani. She is the right match for Barneys, New York who always hits the mark with New York City Chic. In this case I am happy it reflects our Spa Chic Style too.
The brand is a personal reflection of Jennifer's passions and lifestyle in her words directly from he website:
"Created by hand and designed with love – Fine jewelry born and raised in Los Angeles. When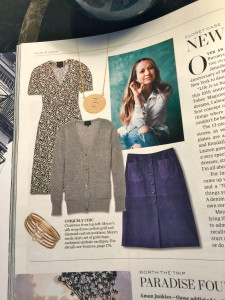 PINIMAGE Jennifer Myer started her eponymous brand over a decade ago, it was the realization of a dream. Founded on the idea that jewelry could be more than an accessory, the Jennifer Meyer collection is designed to become an extension of the woman wearing it; a symbol of luck, celebration and love. It began with simple shapes in the best materials, making pieces that shared Jen's philosophy on life – be authentic, be unique and always sparkle. We believe that true luxury is effortless, that sophistication is extremely sexy, and that everything is infinitely more stylish when it's worn with a smile."
That says it all. Pictured is a sneak peek of the uniquely chic style in the 'What's Up' Section of the weekend's WSJournal Magazine, article title: 'Closet Case New Horizons'. Hope you can catch the spirit of it in this post. See jennifermeyer.com for her fabulous modern jewelry.
Good News Monday: Jennifer Meyer Apparel Collection From Barneys is anticipated and coveted by many. Her approach is right inline with Spanitsa's style philosophy. Can not wait to see it all and hope there are more seasons to come.
To Your Self Care Journey To Joy,
Ginny