Dear Wellness Seekers,
Friday Wellness Tip: Strawberry Kale Salad Yummy & Refreshing is a smart alternative (not to mention healthy) to conventional salad fare. It is especially yummy during the holidays when rich foods abound at the office, at social events and at home. Last but not least, kale salads are perfect for when you're in the mood for a big meal but don't want to feel weighed down afterward. They're especially great if you just want a hearty option to offer vegetarians, kale salad is the answer.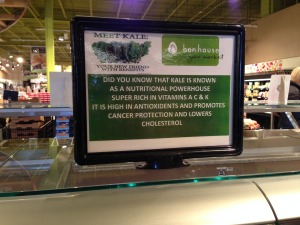 PINIMAGEKale landed on the mainstream food scene as a STAR from out of the blue. Personally, I started to discover it on Manhattan restaurant menus focused on edgy organics. Then I read about it's amazing health properties. As you can see my local market is a big believer by this sign boasting its power with potent antioxidants. However it was not easy to find it fresh unless you looked for a Whole Foods Store. Then one day things changed. I saw kale in the fresh greens section of my favorite neighborhood Amish Market that focuses on healthy fresh prepared foods as a regular on the salad bar positioned next to quena.  It is so delicious. Best yet is it is really easy to prepare while customizing it to your own tastes.
There is an art to making a great kale salad, one that I picked up from Kate Taylor of Cookie and Kate.com. Following is her tutorial for getting the most taste and benefits out of kale with a personal touch – MASSAGE. Yes, I said MASSAGE which makes it the perfect Spanista healthy green choice! It is where meditative meets magical nutrients packed with rich A,C & K.
Here are Kate's tips to making a great kale salad:
Remove the ribs: Regardless of which variety of kale you choose (I love them all), you'll first want to remove the tough ribs from the leaves. Use a chef's knife to slice out the stems or just pull the leaves from the ribs with my fingers. The ribs are too chewy and distracting to include in the salad, but you can chop them and sauté them later (or feed them to your dog. 😉
Chop the kale: Then, you'll want to chop the kale into pretty small, bite-sized pieces. Eating kale salads made with pieces of giant kale is mighty awkward.
Sprinkle with salt: Next, transfer the kale to a serving bowl and sprinkle it lightly with sea salt (salt helps cut the bitter flavor of kale).
Massage the kale: Yes, this step sounds ridiculous, but it makes all the difference. Reach into the bowl with (clean) hands and start grabbing handfuls of kale. Scrunch, release, scrunch, release. Repeat until the kale is fragrant and dark green. This makes the kale less poky and more palatable. Kale is tough, so don't worry about damaging the leaves! This step should take 30 seconds or less.
Dress the kale: Drizzle in a bold dressing and massage that into the leaves so the kale is lightly and evenly coated with dressing (this is important!). Kale does particularly well with zippy dressings. If you've always followed the standard vinaigrette formula (one part vinegar to three parts oil), you'll probably want to up the ratio of vinegar for kale salads. I tend to add a little more dressing to kale salads than other green salads.
My Favorite Spin: Simple Strawberry Kale Salad Yummy & Refreshing takes the same preparation steps noted above. Then add slices of fresh strawberry's, chopped pecans, crumbled feta cheese to your taste dressed with a creamy light raspberry vinaigrette mixed with feta cheese to give it a creamy white consistency. It is so yummy it is addictive.
Toss well: Now is the time to toss in additions like toasted nuts, grated/crumbled cheese and/or chopped raw fruits and veggies. If you have time, let the salad marinate for ten minutes before serving.  Present in a stylish manner on lovely china serving pieces. Add a glass of raspberry cran juice spritzer to add a celebratory note. Serve as a meal – lunch or as lite dinner. Now serving the best kale salad ever! But note – You will feel the positive effects the next day with a boost of positive energy.
Happy a Healthy Holiday and May Your Self Care Journey To Joy Be Merry & Bright,
Ginny