Dear Wellness Seekers,
Friday Wellness Tip: Patriot's Day Prayers, Pride & American Pie honors the value of remembering while we take a moment to be THANKFUL for our treasured FREEDOM and celebrate it over a great slice of American Pie.
Yes, to me Patriots Day is really on September 11.
Fortunately I was not in New York that day. I know people who were and some lost people they loved dearly. I moved to Manhattan shortly after when everyone's nerves were still raw. Living in New York after 9/11, I watched the Freedom Tower rise from the deep gouge in the earth where the Twin Towers stood in the heart of the Financial District, but not until after a long period of political foray. The height of the Tower is 1,776 ft. tall which coincides with the exact day of the signing of  our Declaration of Independence in 1776. As it took shape layer after layer like a beautiful towering glass cake in the sky it rose above the tallest buildings to kiss the stars with it the towering beams. With every layer seem to come a deeper level of emotional healing. Freedom Tower is a tribute to American tenacity and especially that of the people of New York City's financial district.  We watched this symbol of modern brilliance rise to exceed everyone's expectations. Downtown is revitalized with so much happening – way beyond anyones wildest dreams. If you had ever visited Ground Zero and the surrounding neighborhood but have yet to return to witness the changes you will be amazed. The site against the skyline is stunning. I love it.  Then 20,000 lived there and now there are 70,000!
Friday Wellness Tip: Patriot's Day Prayers, Pride & American Pie is shared with true love for New York City and the tenacity of its people. Spanista shares this prayer for the victims, families and heros in Washington DC, Pennsylvania and New York City tragedies.
I pray that God, the source of hope, will fill you completely with joy and peace because you trust in him. Then you will overflow with confident hope through the power of the Holy Spirit.                                                                                                       Romans 15:13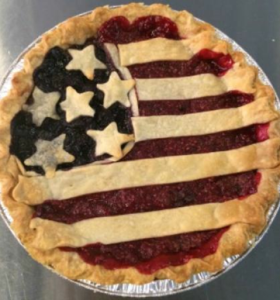 PINIMAGEWe will always remember those lost in the attack and pray for their families. Now let's take a moment to celebrate our FREEDOM over some Peggy Jean's Patriot Pie compliments of her bakery in Columbia, Missouri.
To Your Self Care Journey To Joy,
Ginny
P.S. Freedom Tower Photo from David Libeskind post via New York Magazine.