Dear Wellness Seekers,
Amelia's Boutique New Zona Rosa Location Shines Above Chains because of its fresh point of view amidst the ever so similar look and feel of most of today's specialty stores.  I was out with a friend for a quick tour of the shops at our favorite outdoor lifestyle center while in Kansas City this weekend – Hungry to see the new looks for fall. It is the season gals in the cooler climates crave playful layers, textures, patterns, cover-ups and leathers from boots to belts to bags.
On a beautiful clear Sunday we strolled through the typical brand shops found in every center.  We spot some choice pieces here and there that stand out and maybe exciting enough to purchase but not quite. What I find most disappointing is the fabrication and quality of most of the goods in chains do not justify the regular retail prices.  No wonder they are forced to discount!
Spanista loves chic but also has an eye for value. As I am a career fashion retail gal, my assessment of this sad state of affairs is this – Retailers prolonged focus on the long Great Recession recovery process and digital transformation of retailing has starved the creative talent and spark out of design which is the HEART of COMPELLING BRANDS! Too much poor quality and sameness exists. But News Flash – fashion role is emotional – Commerce exists to stimulate the senses, to surprise and inspire to aspire, to compel to buy and wear in ways that work with today's lifestyles. No one wants a 'uniform look' today but yet that is what is out there in mass. It has, is and will be about self-expression that is relaxed, style right, effective. The smart boutique owners have it going on. While I am in Kansas City at the moment boutique fashion leadership is true in all great cities.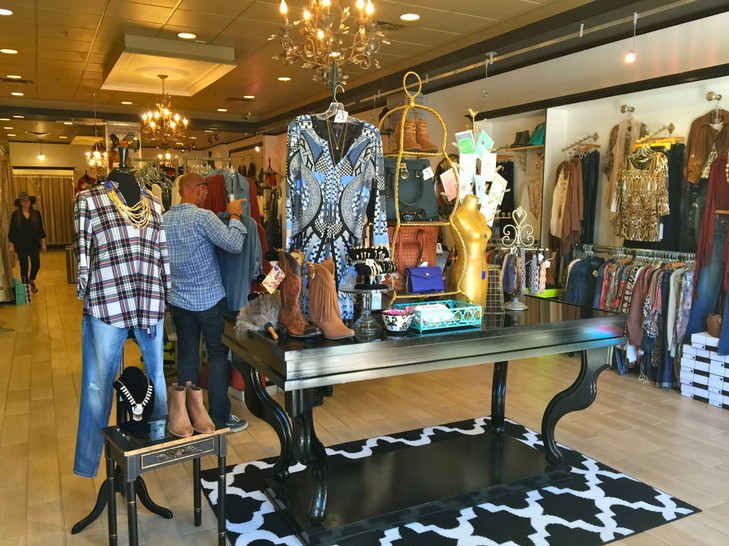 PINIMAGE
That is why Walking into Amelia's is a breath of fresh autumn air.
Amelia's mood upon entry was one of optimism, uniqueness, desire and en'joy'ment  – yes indeed, real joyful escapism. Every fall trend presentation was appealing. The pieces looked special and unique. The color palates were spot on with fashion magazines  – yet they were not predictable. A clever eye for integrated presentation makes it effective. My friend and I got lost in time while browsing. Exactly what we hoped would happen. We explored every piece, touched every piece of merchandise and tried on many pieces. I wanted so many in the collection. Wearing statement pice layered  or solo makes you feel special.
But Spanista was sparked by something my eye was attracted to. These charming drop necklaces pictured here: Lovely, feminine, light beading with a "mindful symbolic" charm paired with a complimentary tassel struck the right chord with me. Fantastic fall color range. Very affordable too.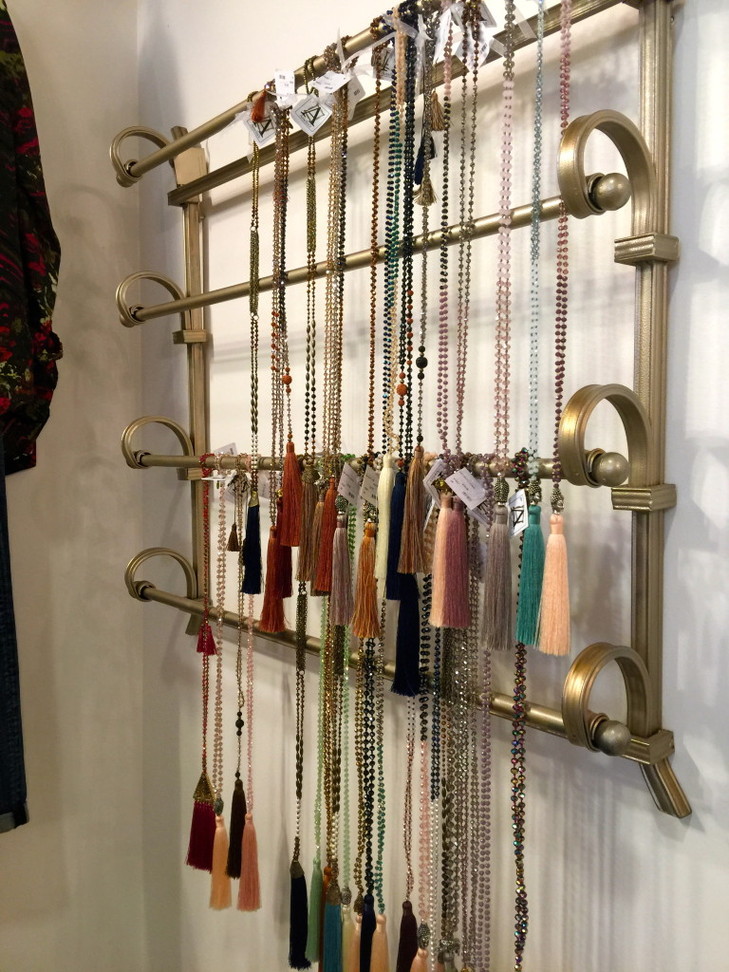 PINIMAGE PINIMAGE
Amelia's Boutique New Zona Rosa Location Shines Above Chains should inspire everyone to shop and support local Boutiques because they are the truly creative designers today. With fall's arrival Spanista suggests grabbing a friend to escape for a few hours.  It is a great time to explore boutiques in your city for a real shot of inspiration. You will love the way it will make you feel and look.
Let us know what you discover on your trip.
To Your Self Care Journey To Joy,
Ginny